Fresh order of club kit has arrived! – posted 1 May 2017
Rachel reports: I have a new delivery of club kit. Several sizes of zoodies,polo shirts and T-shirts are in stock. For those people who gave me an order, I have yours kept aside in bags. I will bring the box of kit on Monday 1st May – there is plenty for everyone else.
A reminder about new weekend's excitement – posted 1 May 2017
Donna writes: Just wanted to remind you that next weekend is the Open Weekend at Port Edgar, starting at 10am Saturday 6th May.  As you may be aware there is the opportunity for anyone to come down to the marina and have a taster session of most water sports for just £5 per person.
As this event is over two days, we will be on the marina available to take folks out, for a small donation of £5 to the Club.  We also have flyers printed up that can be handed out to those folks wandering around over the two days, in the hope of enticing some new recruits.  Please let all your friends/family know that this event is taking place so we can have the chance to get them out on the water….
Also can I ask that everyone who is coming to row over the Open weekend (as our normal sessions will be running throughout), please make sure you are wearing Club colours.  We want to look our best and gain exposure, by sporting our Club logo wherever possible.   This a great PR opportunity so we just have to take full advantage of it….
There is also a disco and dinner event on the Saturday night being organised by JP Watersports, which I understand will be held in the Scout Hall.  The price of a ticket is £12.50 – as yet I have no other details as to what this actually includes, but if you are interested to attend (I'm sure it will be fun with some great food involved), please can you let me know ASAP if you would like a ticket and I can advise James of numbers from our Club for catering purposes.
Check the marina website for more info or take a look at Port Edgar Watersports if you fancy a change from rowing. Phone them on 0131 319 1820 to book a taster at the weekend.
Tides for the week ahead – posted 1 May 2017
Rachel reports: The tides for the first week in May are favourable for us, so plenty of rowing opportunities. Remember on Saturday and Sunday we are open for rowing all day, as part of Port Edgar's Open Weekend – see the previous post for more details on that.
Monday 1st May
07.16 —- 5.60 m H        12.44 —- 0.97 m L.       19.43 —- 5.5 m H
Tuesday 2nd
08.09 —- 5.31 m H         13.50 —- 1.29  m L        20.39 —- 5.2 m H.     Evening rowing 6pm
Wednesday 3rd
09.10 —- 5.04 m H.       15.09 —- 1.6 m L.       21.45 —- 4.9 m H
Thursday 4th
10.19 —- 4.9 m H         17.00 —- 1.6 m L.   Evening rowing 6 pm
Friday 5th
11.30 —- 4.9 m H.       18.21 —- 1.5  m L
Saturday 6th
06 .45 —- 1.9 m L         12.34 —- 5.1 m H
Sunday 7th
07.37 —- 1.6 m L         13.30 —- 5.3 m H
Don't be fooled by Gabe's shorts – it really wasn't summery for this excursion to Hound Point last week (though of course it was a great row).  You can also see from this shot that it was a week of spring tides – nothing to do with seasons, rather it's a series of very high highs and very low lows.
Tides for the week of 8-14 May – posted 7 May 2017
Rachel reports: What a successful Open Weekend we have been part of!! We have introduced the joy of coastal rowing to almost 50 people this weekend,so perhaps some new members may come of this experience. Click here to see photos from the weekend.
We have one or two awkward tides this coming week to deal with, but rowing will go ahead .
Monday 8th May
08.20 —- 1.4 m L.       14.22 —- 5.4 m H
Tuesday 9th May
08.57 —- 1.3 m L.       15.07 —- 5.5 m H.       21.15 —- 1.0
Wednesday 10th May
09.24 —- 1.1 m L.       15.47 —- 5.5 m H.       21.23 —- 1.0 m L
Thursday 11th May
09.17 —- 1.0 m L         16.23 —- 5.5 m H        21.33 —- 0.9 m L
Friday 12th May
09.46 —- 1.0 m L.       16.56 —- 5.4 m H
Saturday 13th May
10.18 —- 1.0 m L.       17.31 —- 5.3 m H
Sunday 14th May
10.45 —- 1.1 m L.       18.07 —- 5.2 m H
Have a good week of rowing. Make use of the evening sunshine and support our evening sessions: Tuesday and Thursday from 6pm.
Flying Scotsman coming our way again – posted 7 May 2017
Rachel writes: Next Sunday, 14th May, the Flying Scotsman  is apparently coming over the Forth Bridge as part of its trip to Scotland.
Last year at this time, we honoured that event by having Ferry Maid out on the water with a saltire flying. We were honoured in return with a special 'whistle'. Ruth Hannah, who was on board with us, took the amazing photograph above, and it is featured in our QRC calendar – May.
Queensferry was lined with people for this event. On the water in our skiff was a special place to watch it! At present we don't know the time of arrival, it is a closely-kept 'secret' apparently, for security reasons. Last year it was approximately 19.30. We would hope it would be late morning onwards, which would suit our tides.
We have a couple of people in our midst who tell us 'they can find out'!! In the meantime, if you think you would like to be in a crew, please email in your interest. It would be good to have both boats out. Further details will follow. I am happy to skipper a crew.
As always, replies to: rachelholburn@gmail.com
And here's a photo Donal took from the shore.
Looking back at the Open Weekend, 6/7 May – posted 8 May 2017
Donna reports:  Well, what a fantastic weekend!! As you will have seen from a few emails going back and forth we were very busy – just great.
Overall, thanks to a great PR push from Russell Aitken on behalf of the whole marina, we had around 45 new folks take to the water, young and old alike.  Both boats were well used and over the whole weekend were recorded as being out with taster sessions around 28 times – a record indeed!!
So we are all a little tired but it was so worthwhile. People are enquiring now regarding membership and due to the £5 donation requested, we have received approximately £170 in donations.  (Anyone who made the £5 donation but joins as a result, will have this deducted from the cost of membership.)
I just wanted to say a huge Thank You to all of you who gave your time to chat to folks, encouraged wherever possible, helped to give safety briefings and generally assist with the fielding of people into appropriate crews for the Skippers to take out on a continual basis.
It was very much appreciated indeed.
Here's to more new members and hopefully junior teams now looking like coming together, thanks to all Peter's hard work in moving this along. (Right: Kieran and Harvey look like contenders!)
Click here to see more photos from the Open Weekend.
Kestrels nesting on the Forth Road Bridge – posted 10 May 2017
News story spotted by Gabe: Kestrels discovered nesting on bridge girder: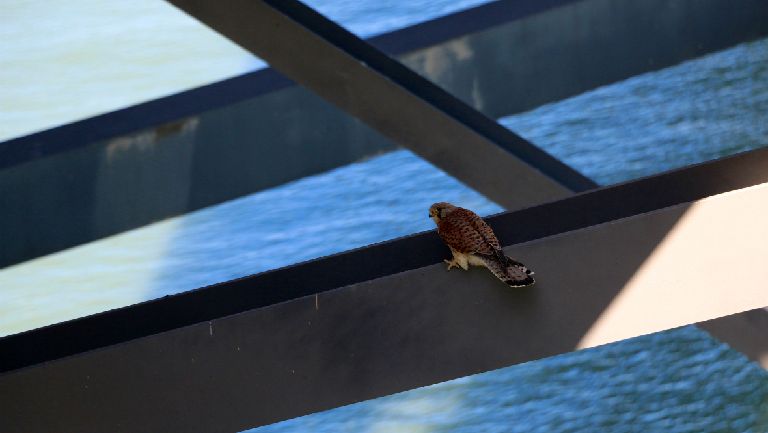 Something else for us to look out for on our excursions besides seals, porpoises and llamas!
For most young couples, the inside of a steel girder with 80,000 vehicles a day thundering overhead would not seem like an ideal location to start a family.
However, for a pair of kestrels nesting on the Forth Road Bridge, it has become home.
Bridge workers discovered the birds of prey while repairing steelwork underneath the carriageway.
They have built a nest with six eggs inside the end of a girder hanging over the Firth of Forth estuary.
The birds have been named Mr and Mr Younger, after Younger's Kestrel Lager.
David Gill, Amey maintenance supervisor, said: "When we saw the eggs, we immediately cleared the area and instructed staff to avoid carrying out any works that might disturb the nest.
"I've heard of kestrels nesting on the bridge before, but it's pretty unusual. You'd think they might prefer a quieter location.
"We're happy to have them here though, and have affectionately named them Mr and Mrs Younger.
"We'll come back and finish our repairs once the chicks have hatched and flown the nest.
"In the meantime, we've carried out a temporary repair on a local defect quietly and there won't be any impact on users of the bridge."
Kestrels are fully protected under the Wildlife and Countryside Act 1981, which makes it an offence to kill, injure or take a kestrel, or to take, damage or destroy an active nest or its contents.
Flying Scotsman passes by – posted 14 May 2017
Barbara reports: The iconic Flying Scotsman nearly scuppered a beautifully organised row this afternoon by turning up at the Forth Bridge 15 minutes early! Both skiffs were flying Saltires – one of which was recently adorning the Scottish Parliament building at Holyrood. Ferry Lass and Ferry Maid both looked splendid, with the crews rowing like champs. I arrived at a vantage point with my camera and took a test shot of the skiffs before changing lenses. By some miracle, the train happened to be crossing the bridge right at that moment.
Being busy with my camera I didn't realise that was THE train and was slightly baffled when the skiffs rowed back up the river. However, a chat with some disappointed trainspotters revealed that the train had indeed arrived early. It wasn't until I was home processing my photos that I realised I'd actually got the "money shot". Well done both crews, you looked amazing. More photos will follow… click here for the Flickr album.
Good tides for the coming week – posted 14 May 2017
Rachel reports: We have a good week of tides ahead.
Monday 15th May
11.10 —- 1.3 mL.       18.46 —- 5.1 m H
Tuesday 16th
11.40 —- 1.4 m L.       19.27 —- 5.0 m H
Wednesday 17th
12.18 —- 1.6 m L           20.11 —- 4.8 m H
Thursday 18th
13.07 —- 1.8 m L.         20.59 —- 4.7 m H
Friday 19th
09.19 —- 4.6 m H          14.09 —- 2.0 m L
Saturday 20th
10.19 —- 4.7 m H.         17.08 —- 1.8 m L
Sunday 21st
11.26 —- 4.8 m H           18.00 —- 1.5 m L
These are great tides for all our social sessions this week, so hopefully we can make the best of them. The following week though, is not great at all!
Congratulations and celebrations! – posted 17 May 2017
First of all, hearty congratulations to new grandparents Keith and Christine Thomson. Edith Chrissie Minto arrived safely into the world at 8pm on Tuesday evening (which means she shares a birthday with a certain Peter Locke).
There were also celebrations on Wednesday, when Anne F marked her retiral from nursing with a picnic row. The tide was low and as the crew ventured west to look at the aircraft carrier, the picnic was enjoyed afloat. Dark clouds threatened, but no rain fell and the wind was gentle.
A week of woeful tides ahead – posted 20 May 2017
Rachel reports: I am the bearer of bad news; the tides are too low each evening for this coming week, so there will be NO evening rowing all week.
Monday 22nd May
6.22 —- 1.7 m L.       12.28 —- 5.1 m H          18.48 —- 1.2 m L
Tuesday 23rd May
07.11 —- 1.3 m L.        13.25 —- 5.4 m H.      19.38 —- 0.9 m L.  NO evening rowing
Wednesday 24th May
08.01 —- 1.0 m L.       14.20—- 5.7 m H.       20.30 —- 0.7 m L NO training session
Thursday 25th May
08.56 —- 0.7 m L        15.13 —- 6.0 m H.       21.21 —- 0.5 m L  NO evening rowing
Friday 26th May
09.49 —- 0.5 m L.       16.05 —- 6.1 m H         22.06 —- 0.5 m L
Saturday 27th May
10.38 —- 0.4 m L.       16. 56 —- 6.2 m H.    NO morning rowing, possible in the afternoon. Await further info!
Sunday 28th May
11.25 —- 0.4 m L.       17.47 —- 6.1 m H   Later start to social rowing, again await further info.
Ferry Maid will be packed up from 5pm on Tuesday, ready to leave for Holland on Wednesday. Anyone who can come along to help lift her on to the road trailer will be most welcome. Several club members will be heading over to take part in the 1st  Dutch International Regatta at Woudrichem. An exciting event for QRC. (Check out the host club's Facebook page.) We will struggle for Skipper cover for the weekend of 27th/28th, but Donna will keep you informed.
All will be well the following week and Ferry Maid will be back on Monday 29th May.
Tides for the week: happy days are here again  – posted 30 May 2017
Rachel reports:  We have better tides this week and Ferry Maid is back safely at Port Edgar after successful performance at the Woudrichem regatta in Holland. A fine time was had by us all, so there are medals to admire, stories to tell and photos to share. Normal service will be resumed!
Monday 29th May
12.13 —- 0.57L.       18.38 —- 5.90m H
Tuesday 30th May
07.03 —- 5.71 m H.       13.01 —- 0.80m L
Wednesday 31st May
07.57 —- 5.47 m H.       13.52 —- 1.09m L.        20.26 —– 5.35 m H
Thursday 1st June
08.55. —- 5.2 m H          14.49 —- 1.4m L.       21.25 —- 5.1 m H
Friday 2nd June
09.58 —- 5.1 m H.        16.13 —- 1.6m L
Saturday 3rd June
11.03 —- 5.0 .m H.       17.41 —- 1.6m L
Sunday 4th June
12.04 —- 5.0 m H.       18.43 —- 1.5m L
Note: The Maid will be unpacked and moved from road trailer to launching trolley on Tuesday evening, so please come and lend a hand. Thanks!
Report, photos and results from WOW-drichem – posted 30 May 2017
Dónal reports: All roads led to Woudrichem, Holland for the 1st Dutch International St Ayles Skiff Regatta on the last weekend of May.  People made their way by all sorts of transport, Plane, Train, Automobile, Boat and Bicycle. Well done Mark that was some effort!  Louise and Barbara were the first to get there as they towed Ferry Maid over on the Wednesday reaching the beautiful City of Woudrichem on Thursday. The early arrivals had a day to experience the wonderful hospitality of the hosts who welcomed the competitors with open arms.
On Thursday Hans van Dalen organised a BBQ which by all accounts was a stunning success. When we were told there was going to camping we thought that it would be fairly rudimentary. Not so, that is not how the Dutch operate.  They had toilets and showers in the field which were more than adequate.
The early arrivals had the joys of sprinting – with some success! – and touring on Thursday followed by a mystery race on the Friday. The weather was not what we are used to as it was in the late 20s on Friday and we were promised that it would be 31C on Saturday. On Friday some of us enjoyed the freshly fried fish, cooked in the open air by the Fisheries Museum in stoves, while the less adventurous had burgers washed down with Heineken.
Saturday, race day and we were woken up in our tents by an air raid siren at 0630, not something I was expecting.  Mind you, most of us were already awake because of the frogs in the local river. They were unbelievably loud. The Coxes briefing was scheduled for 0830 but we were there long before that as we had our gazebo in place by 0730.  The temperature was already quite high for the time of the day and it was only going to get warmer.
Queensferry had some guests rowing for them. We had Gareth and Becky Jackson-Hunt from Broughty Ferry, along with Liz Furrie and Ralph Hopkins, also from Broughty Ferry. Our final guest was Chris Judd, a Gig Rower from Langston Cutters near Chichester.
The course was a 2km one with lane buoy turns. The first race was at 0900, the Men's 50+.  The crew was Rory, Mark, Ralph and Hans with Donal as Cox.  We set off well, but as the race progressed we seemed to be going in the wrong direction.  The crew battled bravely to the end but unfortunately came in at the back of the field setting a time of 13:51. Setting the time for the rest of the Queensferry crews to aim for.
The Women's 50+ were up next and they also found the going tough. It was commented that the Maid moved Like a tug but that was a once off as the next few races showed how well she can move. The Women's 60+ started the successful day for Queensferry as a crew of Donna, Rachel Holburn Anne Flannery, Barbara and Louise raced to a wonderful second place in a time of 14:54. They came in behind Anstruther but ahead of Ullapool.
The Men's 40+ with a crew of Gabe, Dónal, Rory and Ralph raced to second place in their heat in a time of 12:25, beating Anstruther. Unfortunately in the second heat three boats went faster and relegated QRC to fourth. However, that was only a minor blip before the next medals were won: the Women's 40+ with a crew of Donna,Louise, Rachel Dillon, Liz and Becky. They finished in a time of 13:37, behind North Berwick but ahead of Boatie Blest and Anstruther, a fantastic achievement.
The racing continued with the Mixed 60+ but there was no joy there. The next races were marked as youth races, so we thought time for a rest. However, just as this was about to start a message came over the PA system saying that Queensferry were supposed to be in this race because the Mixed 40+ had too many crews and not enough lanes. This had never been relayed to us so we were put into the Mixed Open B race at 1740.
The Men's open race was our next and the crews were changed to give everyone an opportunity and for others to rest. Queensferry were just out of the medals again as they finished in fourth in a time of 12:24 behind North Berwick, Woudrichem and Boatie Blest.
The race of the day was the Mixed Open, with a crew of Becky, Rachel Dillon, Gareth and Chris, with Dónal as Cox. We changed our start to ten quick strokes, which seemed to work. We were neck and neck with Anstruther and Boatie Blest and started to pull ahead halfway down the course. We turned first, with Anstruther hot on our heels. We took a ten out from the turning buoy and stroke by stroke we pulled away from our pursuers. As we headed for the line the cheers from the banks spurred us on to a famous victory. The winning time was 12:21, the fastest Queensferry crew of the day. We finished seven seconds ahead of Anstruther and 17 ahead of Boatie Blest.
It was decided by the Mixed 40+ crew would not race as it was felt we should finish on a high and also the heat which hit 34C was beginning to affect people. The winning crew went for a quick celebratory drink before helping with packing everything up.
That evening we were all invited to the Clubhouse to a BBQ and medal presentation. The medals were presented by the Mayor of Woudrichem along with two historical characters. It was a great evening which culminated with a Disco, where all the rowers got the energy to dance after their exertions of the day, God only knows.
The next morning, after a good breakfast, we all started to say our farewells to Woudrichem, a Regatta and a weekend that will live long in the memory.
Here are a few photos from the weekend – there are more on our Flickr pages: Click here.
Bart Stoutjesdijk from the Netherlands has kindly made his excellent photos photos available. Some great shots of the Maid there.
North Berwick have posted their photos here.
Click here for the SCRA's summary of results. A list of the full results, complete with times and categories, can be seen here.
Oh, and Ferry Maid made the local news!
Water, water everywhere – a Venice adventure – posted 10 Jun 2017
Barbara reports: Last weekend – hot on the heels of the Dutch regatta – a group of QRC rowers travelled to Venice to watch the Vogalonga rowing festival. It had been hoped to actually take part, but finding enough people/vehicles to take the Maid on the cross-Europe journey proved difficult. Next year perhaps? I've posted a few photos here; many more can be seen on Flickr.
As with the Holland trip, everyone arrived in La Serenissima via a variety of transportation: Donna, Rory, Anne P, Louise and Rachel H flew; Anne F stayed on in Europe after the Woudrichem regatta and did a sight-seeing trip by train. Barbara flew to Paris and took a train from there. Sadly ill health kept Maria at home, but she was able to keep track of everyone as we all kept in touch via WhatsApp.
Not having a boat with us did not mean no rowing! Maria had organised a lesson in Italian-style rowing – standing up like a gondolier and facing forward – for Saturday morning, and we all gathered at the appointed spot in Canareggio, in the north of the city. We had three boats between seven, each with two oars and an instructor. First they told us the story of their organisation, Row Venice, and their boats, rare  batellina coda di gambero – wooden "shrimp-tailed" craft which are broader and more stable than the classic gondola. Then we were off!
At first we took turns rowing the front oar, balancing with one foot in front of the other and pushing forward with the whole body. We headed down a serene canal, remembering to let the oar slide off to the side to avoid hitting any oncoming craft. At the end of the canal, we were out in the lagoon – and that's when the fun really started. Venice's lagoon is for the most part, very shallow; however, it is crossed by "motorways", clearly marked by piles, where the water is deeper for motorboats, ferries, buses and the like. There is a speed limit, but no-one keeps to it, so when the instructor called out "Row hard! We need to cross now!", we rowed hard!
The next challenge was learning to row the back oar. This is used for steering as well as propulsion, and involves standing right up on the rear deck. Balancing there while riding out the wake from speedboats rushing past was exciting to say the least.
The Vogalonga was held on Sunday, which dawned a little cloudy but still very hot. We gathered near St Mark's Square to watch the start – it was incredibly crowded of course, with every vantage point packed with onlookers. Bells rang out, a cannon blast sounded and oars and paddles hit the water.
The 30km route took the boats out around some of the islands in the lagoon, so we had time to find a quiet canal-side bar for a spot of breakfast. After a couple of hours Barbara headed for the Rialto Bridge on the Grand Canal, hoping to stake out a vantage point – and was surprised to see returning boats already passed under it. The passing parade of craft was highly entertaining, with every imaginable form of human-powered boat taking part. Paddle boards, kayaks, canoes, dragon boats, rowing boats of all sizes and configurations – it was truly amazing.
To complicate matters, the Rialto gondoliers carried on "business as normal"
After a hour or so, a familiar boat hove into view…
Boatie! The Port Seton rowers looked very fresh for a crew who'd just rowed nearly 30km in the heat
Most of the QRC visitors were able to stay on for a few days to enjoy the many delights of Venice – not least the very refreshing Spritz, a mix of prosecco, campari and soda. Many glasses were raised to absent friends, and to a return visit.
Tides for the coming week -posted 10 Jun 2017
Rachel reports: Next week's tides are ideal for us, so no altered timings!!
Monday 12th June
10.33 —- 1.1 m L.       17.48 —- 5.3 m H
Tuesday 13th June
11.01 —- 1.2 m L.       18.27 —- 5.2 m H        23.09 —- 1.4 m L
Wednesday 14th June
11.29 —- 1.3 m L        19.08 —- 5.1 m H        23.40 —- 1.5 m L
Thursday 15th June
12.04 —- 1.4 m L.        19.50 —– 5.0 m H         24.19 —- 1.7 m L
Friday 16th June
08.05 —- 4.9 m H        12.49 —- 1.5 m L        20.36 —- 4.9 m H
Saturday 17th June
08.54 —- 4.9 m H        13.43—- 1.6 m L.       Annual   North v South race day .
Sunday 18th June
09.49 —- 4.9 m H        14.52 —- 1.7 m L.       22.26 —- 4.9 m H
Saturday 17th  is our annual North v South race day. There will be a 10.30 start for the first of two races to determine who gets the trophy this year. We won't be having rowing beforehand, and we will be entertaining in the shed immediately afterwards. Donna will send out an email with details.
Everyone is encouraged to come and support our club and to join in our entertaining with North Queensferry.
Tides for the week ahead – posted 17 Jun 2017
Rachel reports: Well, we are triumphant after winning back the trophy for the North v South race. A great day was had by all. A report will be posted in due course. In the meantime, there are photos on Flickr to enjoy. Right, our crews show their grit before the races began, and Donna with the trophy afterwards.
Sadly the tides are not good for us for many of our rowing sessions this week. It is to be a week of decent weather, so let's make the best of it and row during the day. The crew going to Portsoy at the weekend will certainly need to be out this week!!
Monday 19th June
10.50 —- 5.0 mH.       17.26 —- 1.6m L
Tuesday 20th
11.54 —- 5.1m H.       18.22 —- 1.3m L.    NO ROWING
Wednesday 21st
06.46 —– 1.4mL.       12.55 —- 5.4mH        19.17—- 1.1m L.      NO TRAINING
Thursday 22nd
07.45 —- 1.1m L.       13.54 —- 5.7m H.       20.16 —- 0.9m L.        NO ROWING
Friday 23rd
08.46 —- 0.8m L.       14.51 —- 5.9m H        21.12 —- 0.8m L
Saturday 24th
09.43 —- 0.6 m L.       15.46 —- 6.0mH.        NO 9am rowing ,await further possible time.
Sunday 25th
10.34 —- 0.4m L.       16.39 —- 6.1m H.    Rowing 1pm as normal.
Weekend social rowing times – posted 20 Jun 2017
Donna reports: Although Ferry Maid is off to Portsoy for the weekend, social rowing will still go ahead on both Saturday and Sunday in Ferry Lass. Newly qualified skippers Keith and Stevie will be there to get rowers out on the water. Times are as follows:
Saturday 24th 1pm (due to tides)
Sunday 25th 1pm as usual
For those going to Portsoy – good luck to you all – we are looking forward to hearing about medals being won, adding to our fantastic achievements so far!
Here's a photo from Portsoy 2014, just to remind everyone it's the North Sea they'll be racing in! (Don't worry, everyone finished the race alive.)
Tides for this week – posted 26 Jun 2017
Rachel reports: After a very disrupted week, this one takes us into July and we have a straight run through the month of tides to suit us. A couple of days with a pontoon will help!
Monday 26th June
11.23 —- 0.3 m H.       17.31 —- 6.1 m H
Tuesday 27th
05.56—- 6.0 m H        12.09 —- 0.4 m L.       18.23 —- 5.9m H
Wednesday 28th
06.48 —- 5.8 m H.       12.53 —- 0.6 m L.       19.14 —- 5.7 m H
Thursday 29th
07.40 —- 5.6 m H.       13.35 —- 0.9 m L.        20.04 —- 5.4. m H
Friday 30th
08.32 —- 5.4 m H.       14.15 —- 1.2 m L.         20.56 —- 5.1 m H
Saturday 1st July
09.27 —- 5.1 m H.         15.00 —- 1.6 m L.         21.52 —- 4.9 m H
Sunday 2nd July
10.26 —- 5.0 m H           16.10 —- 1.8 m L
Make the best of July — lots of rowing and regattas are available. Have you signed up for regattas? Have a look at the sheets in the shed!! As shown by our Mixed 60+ sprint crew's success at Portsoy on Saturday, even beginners can come home with a gong!
Portsoy report – posted 28 Jun 2017
Rachel reports: Here is a wee report from a lovely weekend in Portsoy. We were a small group of rowers and supporters that set off on Friday. Mike McDowall was our tower and we had eight rowers – five ladies and three men. We also had a wee group of important supporters. Despite the small number of rowers, we had been able to enter five races for Saturday,and three for Sunday, plus the important "Andy Race" to finish.
This was a big event, with 17 rowing clubs taking part, plus five yoals from Orkney and Shetland. North Sea Ferries was a big sponsor. The clubs were as follows: Burghead, Queensferry, Orkney, North Berwick, Broughty Ferry, Anstruther, Boatie Blest, Portsoy, Cullen Sea School, Deveron, Collieston, Avoch, Ullapool, Catterline/Gourdon, Findochty, Firth of Clyde and Findhorn.
The "big winds" of 40+mph forecast for Saturday morning had passed through during the night, but the wind conditions were still in the 20s. The first two races were the 2km "big ones", the Men's and Women's Open. As we had none of our "younger" crew with us, these races were always going to be a challenge. Sixteen other entrants with their youngest and fittest species to race against!! However, we at Queensferry are never put off by this!!
Our men were out on the first wave of three, on a sort of triangular course with a PORT turn, finishing with a starboard turn into the harbour entrance. We had Ralph from Broughty as a crew member. Port Seton won on a time of 11.46, and we came in at 11th with 14.46.   A challenging event for the rowers and the cox.
The Women's Open had 13 entrants and was won by North Berwick with a time of 12.55. It was a hard-fought race again, as the winds were getting worse by this point. We had a time of 16.52.
The next two races were Sprints of 600m, starting and finishing at the harbour mouth in what can only be described as "washing machine" conditions. These races again had PORT turns on finger buoys and were held in three waves of three. Queensferry were out in the first wave for the Mixed 60+. We did very well, with a heat time of 5.24,  which was the second fastest of the nine and got us to the final. We had to reassemble very quickly to get back out for this race. There were only three entrants, so we were assured of a medal!
1st — Broughty 4.54
2nd — Anstruther. 5.19
3rd — Queensferry 5.29 – a well-earned bronze medal for Alistair, Tony, Barbara, Rachel and Anne F in her first time coxing at Portsoy .
Mixed Novice was next. There were 13 entrants with 5 waves, so this was very time-consuming and challenging while waiting in the choppy waters of the harbour entrance. Queensferry were the 4th wave.
Time was taken up also for all these skiffs to squeeze aside to allow the big Buckie Lifeboat in to the harbour entrance. There was no mistaking this was a Boat Festival, all sorts of craft were moving in and out in these choppy waters,some having to be brought back in by safety RIBs!!
We had Majella from NQ as part of our crew. Anstruther were winners with a time of 5.23, and Queensferry were joint fifth with a time of 6.00 – a very good result, fifth out of 13, well done! I was coxing this race, for the first time at Portsoy, so that in itself was a challenge. Majella in bow disappeared a few times,and we did well keeping a straight line to buoy and back to harbour mouth, I thought!!
As the waters were now deemed "dangerous", a break was announced, and racing for the day was called off an hour later. This was a pity, but we were pleased with our efforts. We now had time to enjoy the many, many interesting stalls and demonstrations around the two harbours.
At 9am on Sunday the winds were fierce, and at coxes meeting 11am was the time given for a decision to be made. The day's racing was called off, and the skiffs were taken out of the water one by one.
Anstruther were declared overall Regatta Winners, winning back the trophy.
Despite all this disappointment, we had a great time in the company of skiff friends old and new. We all compete fiercely with each other, but we are  the best at helping each other out, and enjoying each other's company socially.Perhaps I have made Portsoy sound interesting and next year we can get some of our 20-40 age bracket there to help us out! My accommodation is already booked for next year!
Tombola prizes please! – posted 1 Jul 2017
A plea from Rachel: Our own regatta is is only a few weeks away now, Saturday 19th August. We had a very successful tombola stall last year as a fundraiser and we wish to do this again. There is a box on the shelf in the shed marked TOMBOLA, ready for collecting items. Can you please consider donating an item or two — something you would be happy to win yourself is ideal!! These fundraising opportunities are vital for us as a club.
If you're not familiar with tombolas, it's a kind of raffle where you pick random tickets – all folded up to keep the numbers hidden – from a bucket. Any ticket number ending in a five or a zero wins a prize – the one with your number sticky-taped to it. Lots of fun, especially if the prizes are good ones! At the Portsoy boat festival at least four tombola stalls were being run by various organisations.
Nearer the time a request will also go out for contributions to our catering operation. Last year we raised hundreds of pounds selling filled rolls, cakes, soup, and teas and coffees. The funds raised in this way help pay for the upkeep of our lovely skiffs, plus the bills – for electricity, insurance and equipment maintenance, as well as adding to a nest-egg for the future.
A good week of tides ahead of us – posted 3 Jul 2017
Rachel reports: That's us slipped into July now, and we have a good month of suitable tides ahead.
Monday 3rd July
11.27 —- 4.9 m H.        17.46 —- 1.9 m L
Tuesday 4th
06.21 —- 2.2 m L.        12.25 —- 4.9 m H.       18.47 —- 1.8 m L
Wednesday 5th
07.20 —- 2.0 m L.      13.19 —- 5.0 m H.      19.30 —- 1.7 m L
Thursday 6th
08.06 —- 1.8 m L.       14.08 —- 5.1 m H.       19.29 —- 1.6 m L
Friday 7th
07.37 —- 1.6 m L.      14.53 —- 5.2 m H.      19.59 —- 1.4 m L
Saturday 8th
08.16 —- 1.3 m L         15.33 —- 5.3 m H.
Sunday 9th
08.58 —- 1.2 m L.       16 .11 —- 5.4 m H
Barbara adds: Ferry Maid will be away to Ullapool on the weekend of July 8th/9th, and the plan is that she will then be taken on an awfully big adventure – a five-day row along the Caledonian Canal, from Corpach to Inverness. Four of the crew – Liz from Broughty Ferry (who is becoming a member of QRC), Anne F, Anne P and Barbara – made a reconnaissance trip on Sunday to check out the details of locks, moorings and accommodation. The fifth place in the boat will be taken by Rachel D, then Mel, then Isla from Broughty, and there will be a few folk involved in shore support.
The trip will need a lot of logistics and some training in towing techniques, and it is hoped there will also be a lot of very fine rowing. All fingers are crossed for fair weather – which wasn't much in evidence on Sunday!
Twitter users can follow the crew's exploits here: twitter.com/QQQKelpieHunt  (Questing Queensferry Quines).
Weekend rowing – posted 5 Jul 2017
Although Ferry Maid is away to Ullapool at the weekend (and then off on a major expedition – see previous post), normal rowing sessions are able to continue. We have Skipper cover for both days and social rowing will take place as usual — Saturday at  9am and Sunday at 1pm.
Speaking of the Maid, she will be loaded on the road trailer at 6pm on Thursday. The more people there are to help, the easier this job is. Once the Maid is on the trailer and everything is tied down she will be moved into the gap between the sheds ready for Mike McD to leave for Ullapool early on Friday, and Ferry Lass will be used for social rowing.
Thanks to everyone in advance for your help.
Ullapool regatta 2017 report – posted 16 Jul 2017
Keith writes: To those who have never been, Ullapool is probably the most popular regatta on the SCRA calendar, this year with 24 clubs participating.
When we arrived on FRIDAY it was so clear why! Mike arrived safely with the Maid, and with help from neighbouring clubs, we got her down safely on to our pitch on the pebble beach. The whole length of the beach was divided into pitches with each club's name on names on sturdy wooden posts.
Enthusiasm to get out on the crystal clear water couldn't be denied and a short familiarising row was had before the Maid was pulled well up on to the beach. Sadly the forecast overnight high tide was to be so high that the boat had to be lifted back up on to the cramped grassy area behind the catering tent (our next door neighbours for the weekend, which was great – no long walks for coffee, soup, cakes venison burgers or Ullapool t-shirts!).
A good decision was then made to put up the gazebo, which was done with Rory's military efficiency, helped by more of us now being aware of what is involved. Job done, we were off to the pub and on to the chippy to fuel up for the next day's racing.
SATURDAY dawned grey and sullen with a brisk wind on the course. The course runs form a line just in front of the Calmac pier to a line of tall turning buoys on the far side of Loch Broom and back – two heart-thumping kilometres. Rowing in the morning went well and good times were recorded by our crews, but as the day progressed, the weather got wetter and wetter. Our last race was at 15.00 so with no other club interest, there was a strategic withdrawal to hot showers and warm B&Bs for most of us to prepare for the highlight of the day – the ceilidh in the MacPhail Centre.
We met up beforehand for a fine warming chilli in the Centre, where we could commiserate with Lorna, who had hoped to participate in the sprints at 18.00 – which had been called off due to the horrid weather. We were also joined by Anne Jarvis who was with us for the whole weekend, and who was generously hosted by Topher, Ullapool's 'main man'. Andy's sister and her daughter and son-in-law were also with us, so the great man's spirit was with us in so many ways at what was without doubt his favourite regatta. Warmingly,  Anne was greeted like royalty wherever she went. Such is the spirit of Coastal Rowing.
After a great evening of ceilidh dancing (for some of us!!) the SUNDAY start was helpfully later than Saturday's, with coxes' briefing at 11am. Even better, the weather was bright, with a lighter wind. We were only due to take part in three races, so it was a day to relax between races and enjoy the occasional bursts of warm sunshine and the beautiful view down the loch, with the Fred Olson liner 'Boudicca' moored just beyond the race course. She provided a spectacular backdrop to almost all the Sunday races, but eventually nosed slowly out of the loch and out into the Minch – so slowly that racing was held up, and as a result, unfortunately the final race of the day had to be cancelled at the last minute -much to the disappointment of the QRC crew who were already on the start line – before the evening ferry arrived.
The gazebo came down in the twinkling of an eye, and oars and other necessary equipment for the great Caledonian Canal adventure were packed up and loaded for our intrepid ladies, who left at the end of the afternoon for Corpach (keep a lookout here for their report).The end of a great weekend's rowing – all of us came home with medals! We hope the next ones will be a bit shinier….!! As ever, there are more photos on Flickr.
Thanks to Mike for towing the Maid, and Peter for driving Anne J. up and back – and for the most welcome unscheduled bacon rolls on Sunday morning! If you haven't paid your £5 towing contribution (like me!!), please make sure it's paid this week to Marion.
Remember – lots of training for our own regatta. It's not far away now!
Tides for the week ahead-posted 16 Jul 2017
Rachel reports: Ferry Maid and rowers are back from their adventure on the Caledonian Canal, so two boats are back in action. A huge well done to Anne Flannery for the passage planning,and to the team of rowers for the meticulous carrying out of this planning. Some of us have caught up with most of the team this weekend, and they all look so well, having had a big, successful, exciting week. Cheers from QRC  all of you.  We look forward to 'the stories'.
Monday 17th July
09.21—- 5.1 m H        14.17—- 1.5 m L
Tuesday 18th July
10.20 —- 5.0 m H.      15.33 — 1.7 m L.      22.57 —- 5.0 m H
Wednesday 19th July
11.26 — 5.1 m H.         17.58 — 1.6 m L.
Thursday 20th July
06.28 — 1.6 m L.       12.32 — 5.3 m H.     19.01 — 1.4 m L
Friday 21st July
07.34 — 1.3 m L       13.34 — 5.5 m H.
Saturday 22nd July
08.39 — 0.9 mL        14 .35 — 5.7 mH      21.02 — 1.0 m L
Sunday 23rd July
09.37 — 0.6 m L.      15.31 — 5.9 m H
Saturday 22nd is our annual ALAN MELDRUM COMMUNITY CHALLENGE event. Do come along and support the crews – Hawes Pier from 12.30 onwards.
Have a good week, great tides for a busy week of rowing.